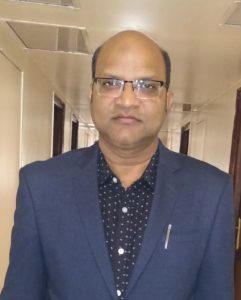 Dear Esteemed Members,
 I am extremely pleased to communicate my thought after assuming the office of the Chairman of the ICAI-Bhubaneswar Chapter.
I am indeed grateful to each one of you for bestowed upon the confidence and choosing me with one voice & to serve as Chairman for the betterment of the Chapter & Profession.  I will try to my level best to continue and enhance the name and fame of the Chapter at all India Level, to carry the wishes of the founder members over the decades, to meet the expectations of the members through focused performance, to deliver the results within the shortest span of time.
I alone cannot do anything and I am confident that with collective efforts and support of one and all, I would be able to live up to the expectations of our Members, Students & stakeholders. We can play our role perfect with your continuous support.
I seek your kind support, co-operation, advice & blessings in discharging my responsibility to serve you better.
Once again, I thank you from the bottom of my heart for giving me the opportunity to serve the CMA Fraternity.
I wish prosperity and happiness to members, students and their families and wish them much more success in all of their endeavours.
Wishing You and your Family Happy Durga Puja , Dushera ahead.
Let us live together with Love, Peace & Harmony.
With Best Regards,
 (CMA Saktidhar Singh)
   Chairman
"Behind every successful business decision, there is always a CMA"